Monthly Cigar Clubs
These are the very finest cigar clubs in the world!


Want to see past club selections, so you know how high the quality is?...





Need a few extra cigars? Just call before the 15th & add them to the club selection.
Since shipping is included in the club price, you save $$$

* NO minimum sign up period!
* Shipping is included in the prices!
* Perfect gift!
* Four great Cuban cigars each month!
* Billed & shipped monthly to your home or office!


*** ALL PRICES US FUNDS ***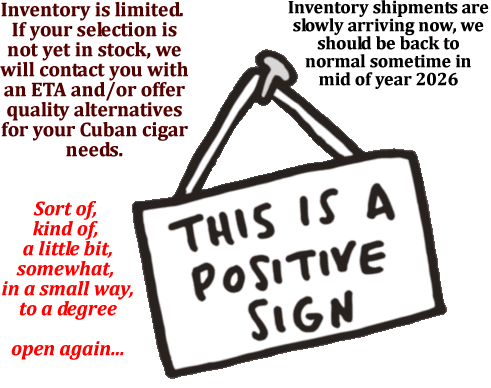 PS Sign up for our newsletter to be kept up to date on our progress Email: info@canadiancigar.com Telephone: 888-830-6162
SORRY, CLUBS ARE CURRENTLY SUSPENDED DUE TO LACK OF INVENTORY. THEY WILL RETURN, JUST NOT SURE WHEN YET. I SUSPECT JANUARY, SADLY...WE LOVE OUR MONTHLY CIGAR CLUBS, SO SIGN UP NOW IF YOU WISH, AND YOUR NAME WILL BE LISTED WHEN THEY START UP AGAIN. THANKS FOR YOUR INTEREST.
All prices shown for International shopping pages are US funds.


Local Alberta residents can shop here: https://www.canadiancigar.com/shop/indexAB.html


Please note due to Federal Tobacco Act regulations we are NOT permitted to ship to Canadian consumers in other Provinces or Territories.
Canadian Cigar Company Ltd All rights reserved 2017 Calgary, Alberta, Canada
Thank you for your interest in our products and service, we appreciate it.