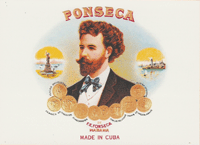 Fonseca Cuban Cigars
Established in late 1800's, this Cuban cigar presents a mild to meduim flavor. Fonseca is believed to be the first Havana brand to wrap the cigar with tissue. The flavours are subtle aromatic herbal, mild sugary sweetness balanced by a hint of saltiness.
*** ALL PRICES US FUNDS ***
Stock is low, we suggest you click the image above to find items we can ship now.
Items ordered elsewhere on the site will be shipped when further inventory arrives.
PS Sign up for our newsletter to be kept up to date on our progress
Email: info@canadiancigar.com Telephone: 888-830-6162

All prices shown for International shopping pages are US funds.


Local Alberta residents can shop here: https://www.canadiancigar.com/shop/indexAB.html


Please note due to Federal Tobacco Act regulations we are NOT permitted to ship to Canadian consumers in other Provinces or Territories.
Canadian Cigar Company Ltd All rights reserved 2017 Calgary, Alberta, Canada
Thank you for your interest in our products and service, we appreciate it.