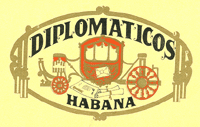 This website is for ALBERTA, Canada residents ONLY. If you are from outside of Canada, please shop by clicking the link below. Thank you.
https://www.canadiancigar.com/shop/index.html

All prices show are Canadian funds and include AB provincial tobacco tax.

This Cuban brand was introduced in 1966. One of the few Havana brands which is exclusively devoted to handmade cigars, the sizes and names essentially mirror the Montecristo nomenclature and the Diplimaticos line is produced at the Jose Marti factory, as is most of the Montecristo range. They are generally considered to be medium to full bodied.
Stock is low, we suggest you click the image above to find items we can ship now.
Items ordered elsewhere on the site will be shipped when further inventory arrives.
PS Sign up for our newsletter to be kept up to date on our progress Email: info@canadiancigar.com Telephone: 888-830-6162