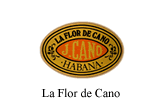 La Flor De Cano Cuban Cigars
Created in 1884 by Tomas and Jose Cano, this Cuban cigar brand is often hard to find due to the small production quantities, but it offers a medium-strength smoke and excellent workmanship in the handmade sizes.
All prices shown for International shopping pages are US funds.
All prices shown for Alberta (AB) residents shopping pages are in Cdn funds.

Local Alberta residents can shop here: http://www.canadiancigar.com/shop/indexAB.html


Please note due to Federal Tobacco Act regulations we are NOT permitted to ship to Canadian consumers in other Provinces or Territories.
Canadian Cigar Company Ltd All rights reserved 2013 Calgary, Alberta, Canada